When creating or expanding your Siemens PCS 7 project, there are several bulk systems engineering tools available to assist in the process to optimize efficiency, organization, and future flexibility. Tools that will be covered in this blog series include Process Tag Types, Process Object View, and Sequential Function Chart Types (SFC Types). These Siemens tools allow you to create templates used to generate several instances in a short amount of time and to efficiently edit large pieces of programming from a central interface.
You may wonder how exactly these tools will benefit your application. By utilizing these tools, you are allowing yourself the following advantages:
Consistency among control modules or sequences of the same type
Efficient, bulk creation
One-time approval of a type template
Bulk modifications of several instances at once
The alternative to using these systems engineering tools is to manually create each and every control module and sequence. This method would undoubtedly require more engineering time while creating more room for error and a lack of consistency. While using these tools will take more upfront planning and consideration, it saves time in creating, testing, and modifying individual instances. The more familiar you become with these tools, the more you can recognize how to utilize them to their full potential and how the upfront planning and decisions result in optimal results with minimal engineering.
Read the blogs below to learn more about how and why Cross Company uses these tools with PCS 7 projects.
What are Process Tag Types?
A Process Tag Type is a logic chart that is configured for any control module type that will have multiple instances (e.g. valves, motors, PID controllers, analog monitoring). The Process Tag Type provides a standard template by which all similar control modules will follow.
These template charts are stored in and modified from the Master Data Library assigned to your PCS 7 project. You use a tool called Import-Export Assistant (IEA) to create these templates and import their instances into your project.
Project master data library.
Control modules such as valves, motors, and PID controllers, inherently have several similarities from one instance to another. It is important to recognize these similarities, and differences as well, to determine the templates you will need. For example, a set of valves may have dual feedback while another set may have no feedback at all, so you can create a type or template for each.
The following picture captures a simple example of a Process Tag Type for analog monitoring:
Example Process Tag Type for analog monitoring.
A Process Tag Type chart is created for each template. You then identify any differences between the instances of the template by selecting certain parameters to be user defined and applied prior to instance creation. Examples include ranges, alarming, units, block comments, I/O signals, and its location in the project.
These are the parameters and signals that will be available for population in a file called the "import file" or "IEA file" (import-export assistant file) which is used to generate all of the control module instances.
Creating Process Tag Types
First, you must identify, create, and test templates needed for the project. Testing is an important step to ensure that every instance created from the template functions as anticipated. Some examples include:
Analog input with alarming
Discrete input with alarming on closed limit
Discrete input with no alarming
Valve with dual feedback
Valve with no feedback
Motor
VFD
PID loop
Siemens provides sample Process Tag Type templates which can be used or modified to fit your specific needs. Cross Company has compiled our own library of Process Tag Types as well, with options that incorporate common requests for other features or functionality.
The next step is to create/modify the Process Tag Type. You select individual I/O points for "parameter" and "signal" which are flagged to be the user-defined parameters explained previously, to be defined for each instance.
Parameter – alarm limits, ranges, monitoring time, PID parameters, etc.
Signal – connectors for I/O signals assigned to the device (AI, AO, DI, DO).
Selection to create/change Process Tag Type.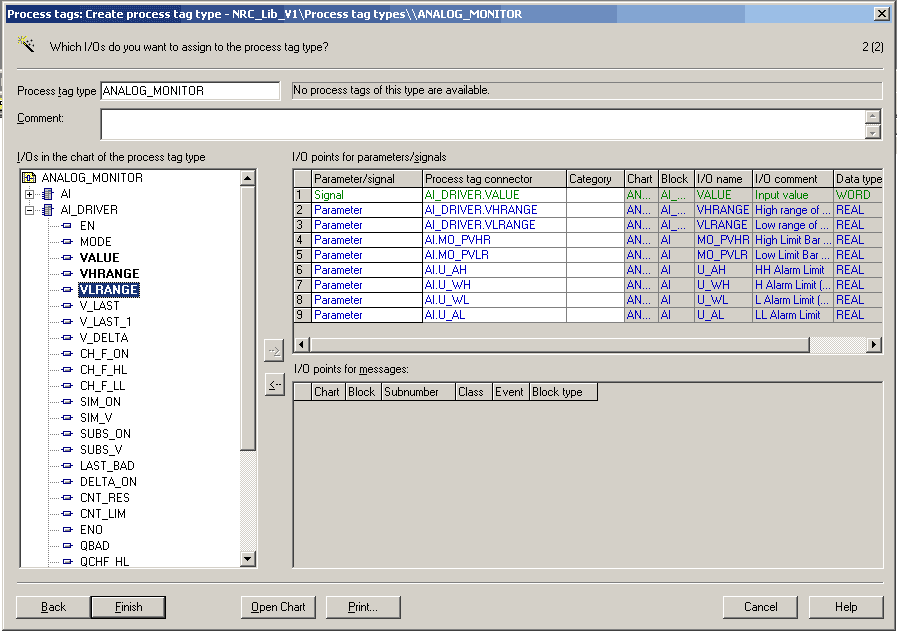 Selecting I/O as parameters and signals to be user-defined.
Assign/Create Import File
Import-Export Assistant Files – referred to as "import files" or "IEA files" – are used to populate instance-specific information for each control module that you are creating from the same template.
For each Process Tag Type, you create (or assign, if already existing) an import file that contains a column group for each user-defined parameter and signal for that Process Tag Type. Each row in this import file corresponds to an instance you are creating that is based on your template Process Tag Type.
For each instance, you define its location in the project (or "plant hierarchy"), its name, and its individual parameter and signal assignments. With enough pre-planning, you can also enter chart interconnections; e.g. connections to an area simulation chart for enabling/disabling simulation for that module.
Snapshot of an import file with six analog monitoring instances. 
Importing Process Tags
Upon completing your IEA file, you can then run the Import command on your Process Tag Type to create those instances in your project. An instance that is created in the project from a Process Tag Type is called a process tag.
Once imported, please note the following considerations:
Do not change block names or Process Tag Type name – these will break the link to the Process Tag Type.
You cannot add/remove blocks or change interconnections/parameters by changing just the Process Tag Type; this will require a re-import.
To re-import, you can delete and import instances by running the IEA file with 'import mode' set to delete.
Do not run a re-import after making connections to other charts; these connections will be lost.

Project plant hierarchy containing imported process tags.
What's Next?
Process Tag Types are used for the bulk creation of process tags, or control modules, in your project. Once those exist, however, the job of the IEA tool is essentially complete. However, the convenience of Process Tag Types extends to bulk editing as well. Read more about it in the blog on Process Object View.