Power over Ethernet (PoE) is an Ethernet Standard that Supports the use of Both Power and Data on a Single Ethernet Cable
We recently got asked by a local custom machine builder for PoE (Power over Ethernet) injectors that were suitable for mounting in an electrical control panel. The requirements were for DIN rail mounting and power via standard 24VDC used in industrial automation and control applications.
This requirement is a little unusual as we typically have requests for PoE injectors for IP-based video security, video monitoring, telephone, and wireless access point applications. In this application, the machine builder was using multiple bar code scanners from Cognex that supported the use of Power over Ethernet.
Power over Ethernet (PoE) is an Ethernet standard that supports the use of both power and data on a single Ethernet cable. The standard is typically referred to as 802.3, and has several adaptations based on the amount of power transmitted on the wires. The basic concept of PoE is based on the standard wiring configuration used for Ethernet cabling. Inside of a standard Ethernet cable are eight conductors. The 10Base-T and 100Base-TX (10Mb or 100Mb Ethernet standards) only use four of the eight conductors in the Ethernet cable. The PoE standard was adopted to allow power to be transmitted on the extra four conductors.
Since standard Ethernet switches are not designed to use the extra four conductors, a device called an injector must be added to the cabling configuration. The injector adds the power portion of the 802.3 standard to the four conductors allowing the edge device to be both powered and transmit data over the same Ethernet cable. A PoE injector will also have at least two Ethernet ports – one for connection to an uplink device and one for the PoE edge device.
To find a PoE injector that also offered the DIN rail mounting requirement, we looked to two of our key supplier partners that provide a wide variety of Ethernet products – Phoenix Contact and Advantech. Both of these vendors had solutions that met the customer requirements. We also identified some more advanced PoE products that might be suitable for future applications.
Below are some pictures of various DIN rail mounted, 24VDC powered PoE solutions: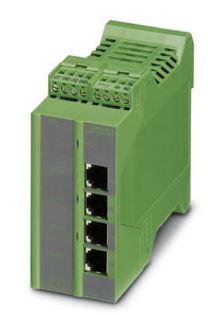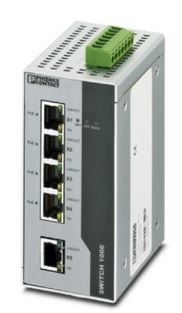 Two Port PoE each with Uplink port                                                           Four Port PoE with Unmanaged Switch and Uplink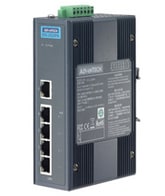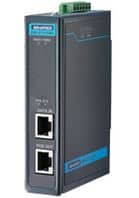 Four Port PoE with Unmanaged Switch and one 10/100 Port                                    Single Port PoE
Depending on the application, solutions are also available that include a fully managed Ethernet switch with PoE functions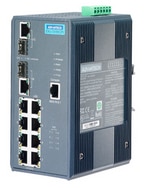 Eight PoE Ports with Managed Switch and Two Gigabit Uplink Ports
For those applications that are best suited an out of cabinet PoE device, there are also units available that are IP67 rated with M12 connectors. These are great solutions when mounting within the control cabinet is not an option.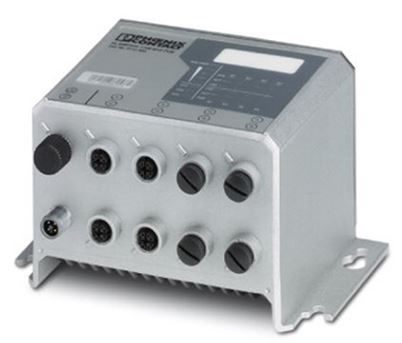 Machine mount IP67 rated switch with eight 10/100/1000 PoE ports using M12 connectors
Below is a short video that overviews some of the additional features available with PoE devices designed for the industrial control cabinet and automation applications.