Documentation – Sample Accuracy Report
Meinecke's factory calibration certificates can be a bit difficult to decipher the first time you see one, so we have provided the sample certificate certificate above along with a brief explanation below of the typical data found on these certificates.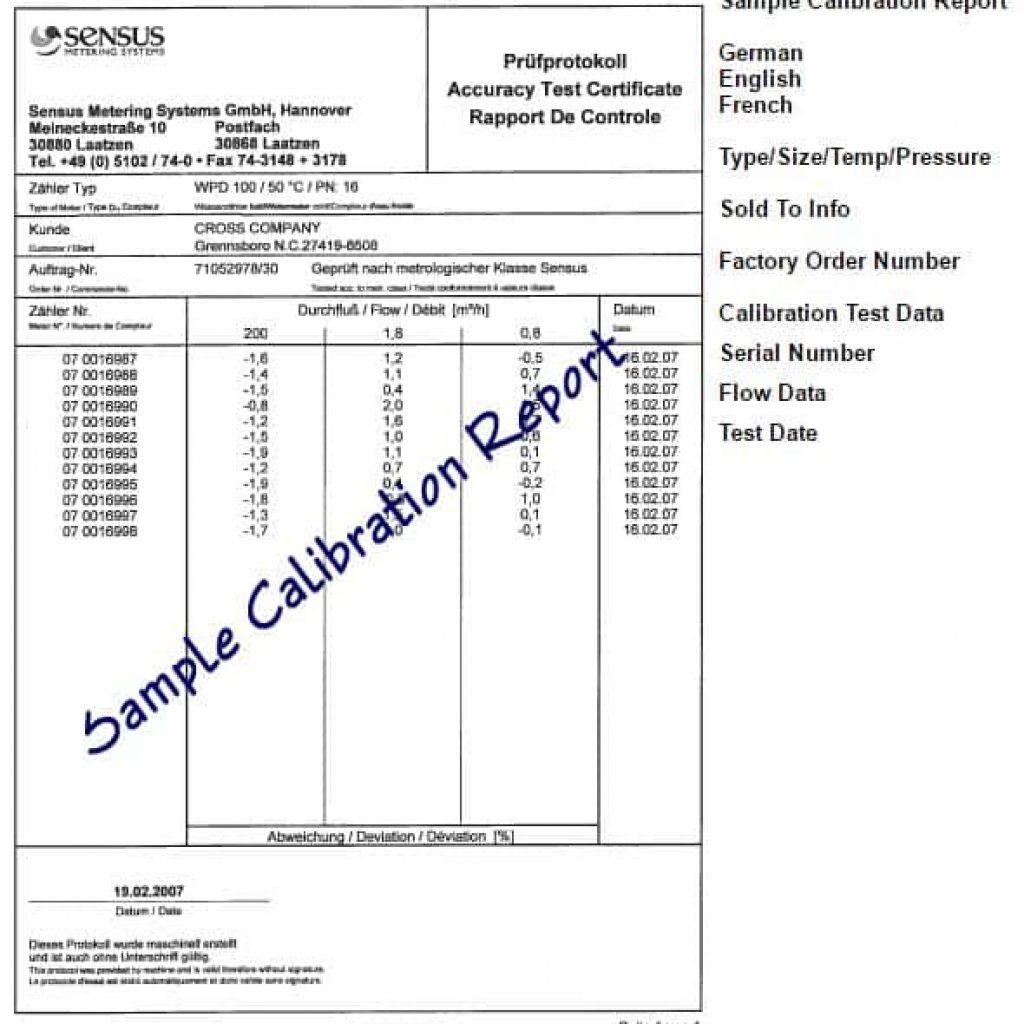 They are written in 3 languages, English is usually the 2nd one listed. The meters are tested in the factory's calibration shop under real conditions. Let me translate the first few lines.

1. Type: WPD 100 = 10mm or 4 inch WP/Dynamic Flow meter

2. For: 50'c and PN:16 = Rated to 122'F and Pressure Rated to 16 Bar

3. Order No. – This is the Sales Order we as a Master Distributor purchased these meters on. 

4. Meter No = Serial Number, Flow = Rate in M3/Hr, Date Tested: 16.02.07 = February 16, 2007

In the main body, you'll see all the Serial Numbers of meters tested in that group in the first column. Meters are gang tested so you may see more than one meter listed on your report.

Meinecke tests these meters at three different relevant flow rates. For your 3" meter, test flow rates are shown below along with the deviation from that rate by %.

The next 3 columns show the deviation by % from the standard reading, at three distinct flow rates.
• 200 m3/h (660.57 GPM) /    -1.0% deviation
• 1.8 m3/h (7.92 GPM)     /    +1.2% deviation
• 0.8 m3/h (3.52 GPM)     /     -0.5% deviation
The deviations listed are from the first meter listed…  Serial Number: 07 0016987
Still have questions about the report contact a Cross instrumentation specialist to learn more: 
How to Buy a Flow Meter 
Flow meters come in different styles, technologies, abilities, etc. No one meter that can do everything – but they all have their purpose. Before you can buy with confidence, learn what questions must be answered!