What is the difference between an ESOP and 401k at Cross Company?
A 401k is a type of investment program that is dependent on the employee to make a monthly contribution as a percentage of their income. The employee then has options about various investments that can be made with the funds in the 401k account. The employee can select some type of mutual funds that are based on stock market values.
In comparison, the Cross Company ESOP is an automatic enrollment program (after employee meets minimum requirements). The Cross Company contributes a percentage of the employees' annual income to the ESOP, similar to a 401k except the company has made the entire contribution.  An employee's ESOP funds are invested into company stock, which can be diversified closer to retirement.
Below is a summary of some aspects of a 401k and an ESOP: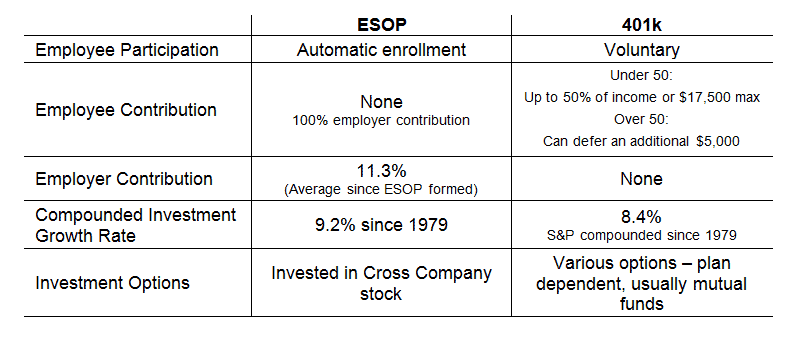 A key reason for both of these investment programs is to provide a method for the employee to accumulate financial assets for their after-work life – money for retirement.
The chart on the following page is a summary of how financial assets can accumulate with:
Only the employee contributing to a 401k in the amount of 6% of income
Only the Cross Company ESOP at the average of yearly contributions
Both the ESOP and employee 401k contribution
Over a 20 year period, the ESOP offers the opportunity to accumulate over a 100% greater retirement nest egg than by contributing to only a 401k. An employee that contributes to a 401k and is a member of the ESOP can accumulate an even greater nest egg, significantly more than with just a 401k.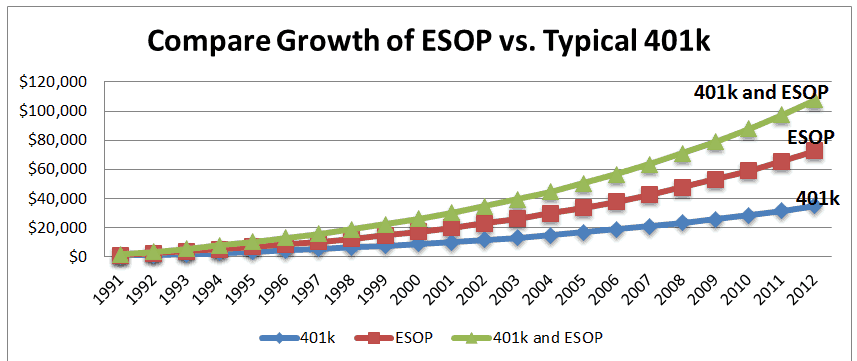 Note: the above chart is based on a $10,000 annual income – adjust based on individual situation
The ESOP is a wonderful benefit for all Cross Company employees and offers each of us an opportunity to accumulate a retirement nest egg to support our family in our post-work life.
The company encourages all employees to have multiple savings options as part of their long term savings goals. The option to have both a 401k and an ESOP investment account is a very positive benefit offered by the Cross Company.
Thanks for everything that you do for the Cross Company!
Paul Carter – CEOC Member